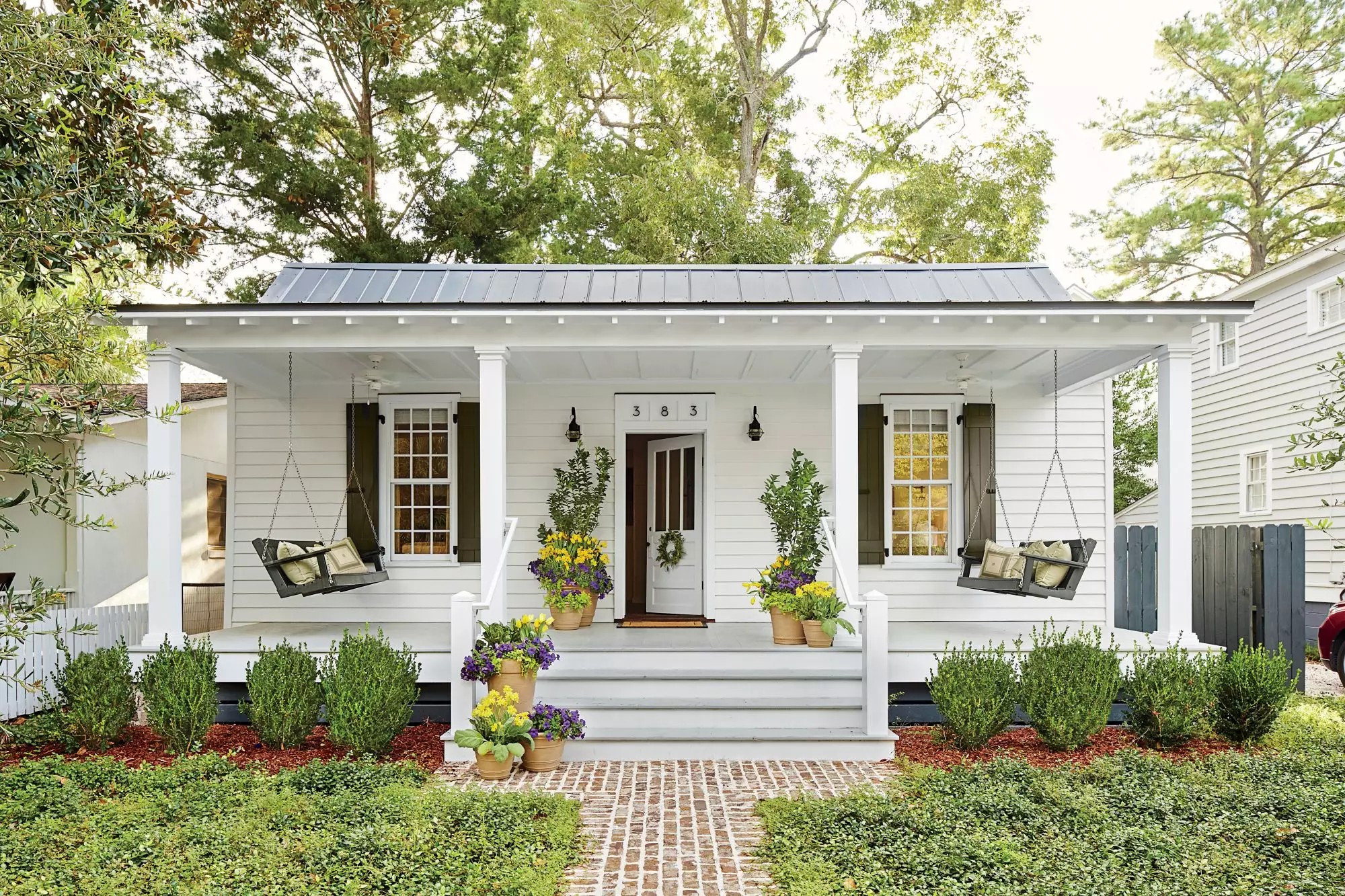 Who doesn't like having a lovely porch? A beautifully decorated porch is a great thing when you're looking to sell your house, but it's also nice to decorate it to freshen things up a bit. Curb appeal plays an important role in how other people see your home, but also how you feel when you look at it. The beauty of decorating a porch is that you can do it while being on a budget, but you can just as easily spend a small fortune setting everything up. Need fresh ideas for porch décor? We've got you covered:
Add pretty details
Sometimes, all you need in order to transform your porch completely is a touch of luxury. When it comes to deluxe décor, less is more, so you won't need dozens of boxes of trinkets in order to achieve that classy effect. Instead, a few strategically placed pieces will do the trick. We're talking about adding a proper rug to keep your feet warm in the sitting area, and fluffy blankets to wrap yourself in on cold days. If you have people smoking, a crystal ashtray will scream 'luxury' while accent wall décor painted gold will mesmerize everyone. You can also hang a few crystal sun-catchers and enjoy small rainbows these throw on your porch on a sunny day.
A fresh coat of paint
A fresh coat of paint on your house will do wonders for your plain old porch. You will be pleasantly surprised with how different your entire house looks with a freshly painted porch. Changing the color palette can make your house look more inviting or give off that retro vibe everyone is pursuing these days. If painting the whole porch sounds like too much hassle, you could try painting the trim around windows and doors for starters. Once you find your palette start painting, you might want to also paint the fence that frames your porch as well. If picking a color is too exhausting, you can always pick a clear finish instead.  
Get a different porch light
It might seem simple and basic to you at first, yet porch lights play a huge role in how other people see your home. This is especially prominent at sunset as well as in the evening. Choosing the best porch lights for your house, however, isn't a particularly easy task. This is because you have to be mindful of many little things and pick the lights that will perfectly complement the style in which your house was built. Find the style that suits you, be it a rustic lantern or an elegant flush mount, and replace your old lights. Adding ambient lights is also a great idea, so find simple solar fairy lights and hang them around. These will add a touch of romance, and you won't have to mind the power outlet or buy batteries for them.  
Do something about your front door
Can you remember when you painted your front door? If you have a front door with faded and chipped paint that peels, it will give a bad impression. Transform your entire porch by painting the front door a new color. On the other hand, if you have an old and worn front doors, painting them won't do any good. Instead, you can try replacing them with a door that's in a different style. While this move might not be as cheap as repainting, it will add the feeling of safety while also improving your curb appeal. Getting a new door is a big deal, so take your time and do your research first.
Connect the house with the landscape
Unfortunately, a lot of people don't take the time to research the climate and the soil when choosing plants for their yards and porch. As a result, we have a mishmash of different plants that don't do well together and don't thrive in the climate. Your porch and your garden should match in style, and they should feel like an extension of each other rather than two separate areas. Adding a few potted plants will make the entire place seem more inviting, and you get bonus points if your porch plants are similar to those in your garden. A different variety of roses or herbs not only looks good but doubles as an aromatherapy addition. Another good idea is to create a delicate transition between the house and the garden with potted plants that descend in height from the front door.
Play along with the seasons
This is by far the simplest and easiest way to decorate your porch. Every season has something different to offer, and you can switch up your décor every couple of months without it looking like overkill. Fresh flowers and accessories in the form of animals and insects are perfect for spring, while flowers and ferns look great in summer. Fall brings us plenty of materials to choose from, as even old branches and fallen leaves look great on wreaths. Bonus points if you want to decorate for Halloween since fall décor mashes with pumpkins and skeletons. After Halloween, it's time for jolly Christmas ornaments, twinkling fairy lights, and little Santas peaking from your windows. You don't even have to spend a fortune on a different set of decorations for every season because you can make your own wreaths from materials you can pick up in your local park or the countryside when you go out for a walk.
Everybody who owns a home knows very well that the way a house looks on the outside plays a crucial role in setting up a price when putting your home on the market. Sadly, not a lot of people know just how easy it is to upgrade their curb appeal with simple porch décor. Regardless of whether you're looking to upgrade your porch décor for the upcoming holidays or you're more interested in raising your house's market value, we hope our tips have helped. When you have a well-decorated and cozy porch, it can double as an outdoor living room for everyone to enjoy.