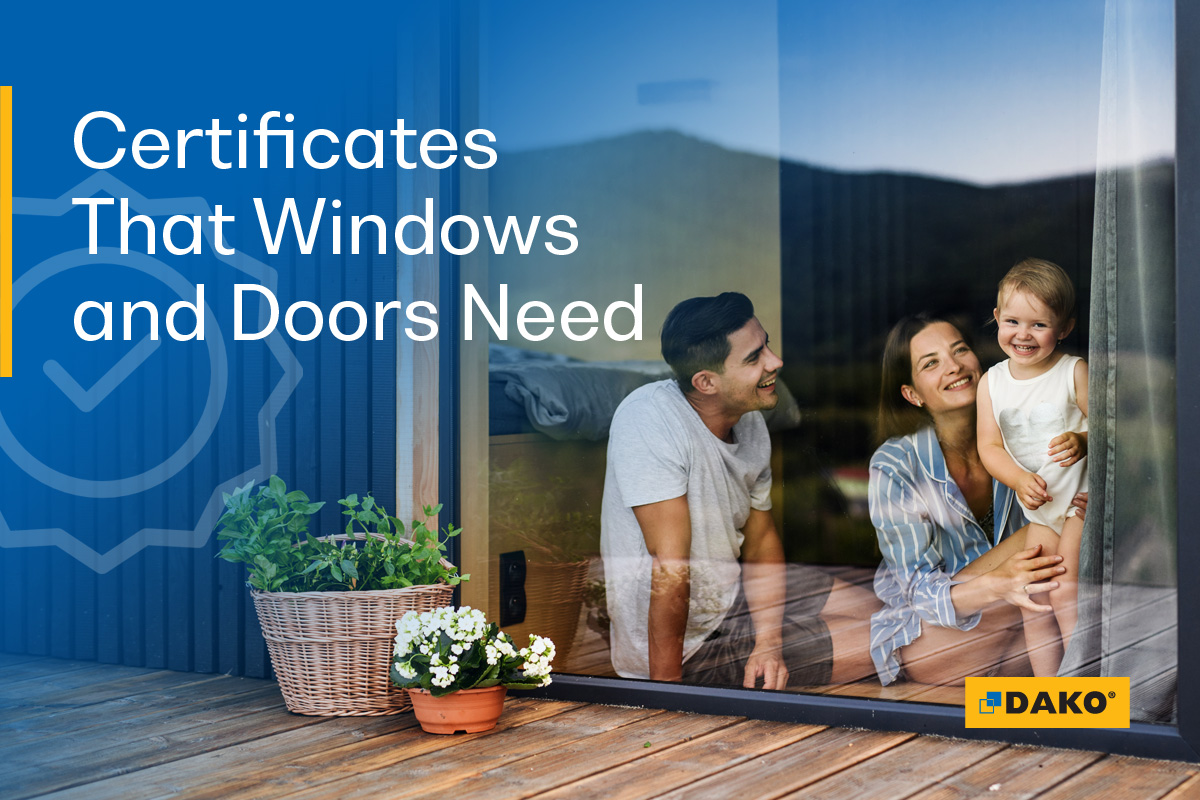 There are several reasons why windows and doors need to receive certificates that attest to their compliance with specific market requirements. For manufacturers to sell products in the United States, for example, they must satisfy a variety of standards related to safety, energy efficiency, and more. Certificates can help them do just that.
In addition to ensuring that products meet minimum requirements for safety and performance, certificates can also help manufacturers market their products more effectively. By prominently displaying certifications on product packaging and in marketing materials, manufacturers can show potential customers that their products have been vetted by third-party organizations and meet or exceed industry standards. This can give customers peace of mind and help manufacturers close more sales.
There are several different types of certificates that windows and doors can receive, depending on the market they're intended for. Some examples include:
1. Energy Star Certification
Energy Star certification is a voluntary program that helps businesses and individuals save money and protect the environment through energy-efficient products and practices. The certificate is awarded to windows and doors that meet or exceed strict energy efficiency guidelines set by the US Department of Energy. To earn the Energy Star label, a product must be independently tested and certified by an accredited third-party organization.
The label indicates that the product meets or exceeds energy efficiency standards for their particular climate zone. In addition to saving money on energy bills, Energy Star-certified products also help to reduce greenhouse gas emissions and combat climate change. As more consumers become aware of the benefits of Energy Star certification, the demand for these products will likely continue to grow.
2. ISO Certification
Many American consumers are familiar with the Energy Star certification for windows and doors. However, there is another important certification that products must have to be sold on the US market: ISO certification. ISO, or the International Organization for Standardization, is a global organization that creates standards for everything from quality management to food safety.
To earn an ISO certification, a product must meet rigorous standards for quality and safety. For windows and doors, this includes standards for materials, manufacturing processes, and performance. As a result of these strict standards, products that bear the ISO logo are high-quality and durable.
body, the manufacturer can then apply for a CE certificate. The whole process can be quite costly and time-consuming, but it is essential to be able to sell windows and doors in the US market.
3. NFRC Certification
The National Fenestration Rating Council (NFRC) is a nonprofit organization that provides a certification program for windows and doors. To be certified, products must meet certain energy-efficiency standards. The NFRC label can be found on products that are sold in the United States.
The certification program is voluntary, but most manufacturers choose to participate to show that their products meet the highest standards for energy efficiency. The NFRC label is important for consumers to look for when purchasing windows and doors. It is a guarantee that the product will perform as advertised and help to save energy costs.
4. AAMA Certification
The American Architectural Manufacturers Association, or AAMA, is a non-profit trade association that promotes excellence in the window and door industry. In order to ensure that products meet the highest standards, the AAMA offers a certification program.
To become certified, manufacturers must undergo a rigorous testing process. Once certified, products are then eligible to be sold on the US market. The AAMA certification is a symbol of quality, and it helps to give consumers peace of mind when making purchase decisions.
The Bottom Line
Each type of certificate attests to different things, but they all help to show that a product is safe, effective, and high-quality. By making sure that your windows and doors have the right certificates for your target market, you can help to ensure that they'll be well-received by customers and comply with all applicable regulations.
DAKO has several certificates that attest to the compliance of our windows and doors with specific market requirements. For example, our products are ISO certified  meaning that they meet safety standards set by the International Organization for Standardization. Additionally, our products are NFRC certified, meaning they meet or exceed energy efficiency requirements set by the US Environmental Protection Agency.