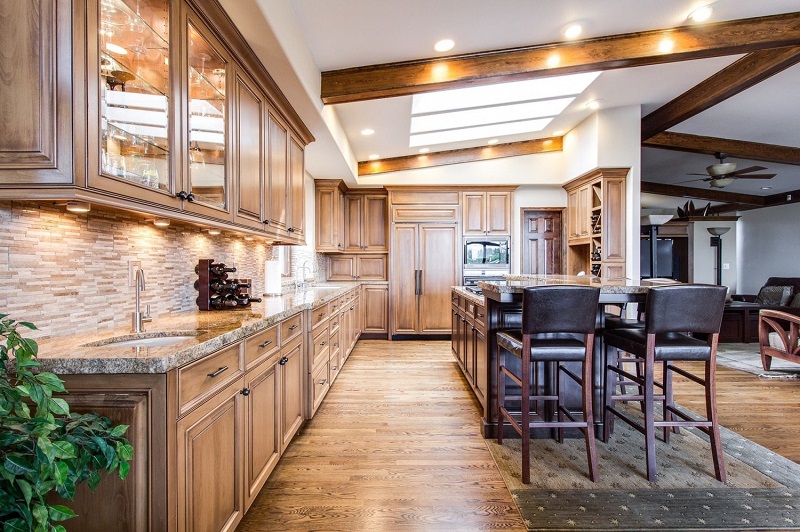 Quality: The quality of your kitchen cabinets is an important factor when choosing cabinets for your kitchen. Look for cabinets made from solid wood and other durable materials that can withstand regular use and wear and tear.
Style: Consider the overall design of your kitchen and choose cabinets that will complement this style. Traditional, modern, contemporary, or even industrial-style cabinets are all available in a range of materials and finishes, so you should be able to find something to suit your kitchen's aesthetic.
Budget: The cost of kitchen cabinets can range from a few hundred to a few thousand dollars, depending on the size and style you choose.
Storage options: Think about the types of items you need to store in your kitchen cabinets and choose a style with plenty of storage options. Drawers, shelves, and other features can help you make the most of your space.
Installation: If you plan to install the cabinets yourself, make sure that the style you choose is within your capabilities. Alternatively, you could hire a professional to do the job for you.
Materials and Finishes for Kitchen Cabinets
Wood: Wood is a classic and timeless option for kitchen cabinets. Options include maple, cherry, oak, hickory, birch, and pine.
Laminate: Laminate is a good choice for cabinets if you are looking for a lower-cost option that is still durable and easy to clean.
Metal: Metal cabinets are becoming increasingly popular for their modern and industrial look. Options include stainless steel, aluminum, and brass.
Painted: Painted cabinets offer a custom look and can be wiped down easily.
Glass: Glass-front cabinets are a great way to show off dishes and other items while still keeping them protected.
Veneer: Veneer cabinets are a cost-effective way to get the look of wood without the higher price tag.
Thermofoil: Thermofoil cabinets are a cost-effective choice that is durable and easy to clean.
Melamine: Melamine cabinets offer a glossy finish that can easily be wiped down and is highly resistant to scratches and wear.
Measurements and Layout for Kitchen Cabinets
Measure the walls of your kitchen to determine where you want to install the cabinets. Measure the height of the ceiling to determine if you will need to adjust the cabinet heights. Measure the width of the room to determine how many cabinets you will need. Measure the length of the countertop and divide it by the number of cabinets you need to determine the size of each cabinet. Measure the height of the countertop to determine the height of the wall cabinets. Measure the placement of the windows, doorways, and any other obstructions to determine the best layout for the cabinets. Mark the positions of the cabinets on the wall using a level and a pencil. Measure the distance between the cabinets to ensure they are evenly spaced. Install the cabinets according to the measurements and layout you have determined.