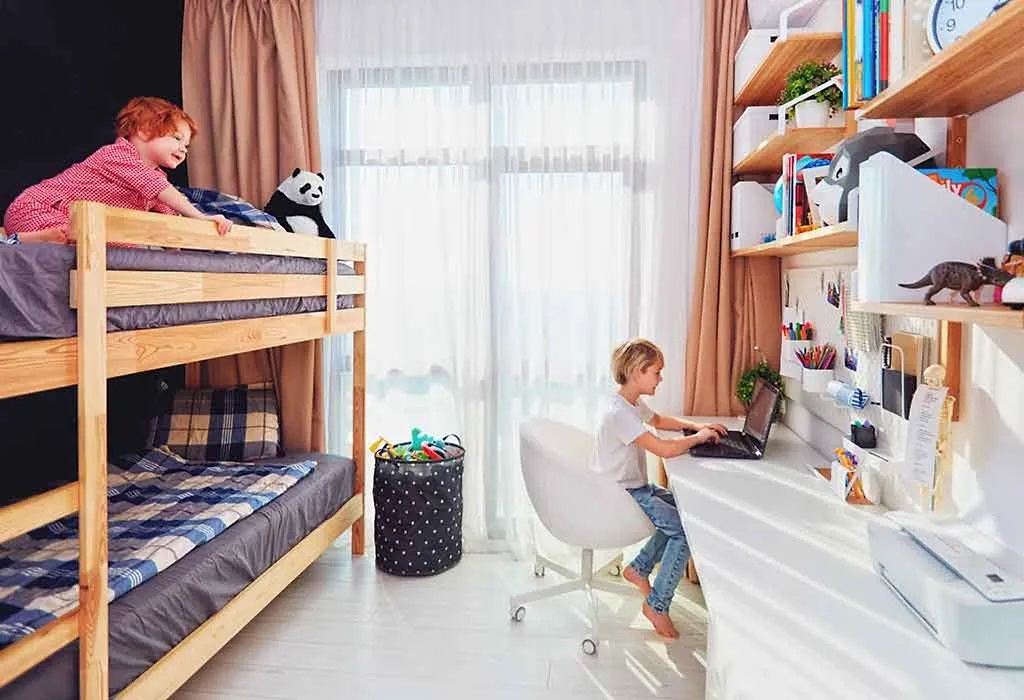 Today, loft beds are becoming popular layouts for bedrooms. The beauty of the loft bed with desk is they are a space saver. It maximises vertical space by having a bed on top of the designated office or study space below. This setup is perfect for small bedrooms. They are perfect for children, too!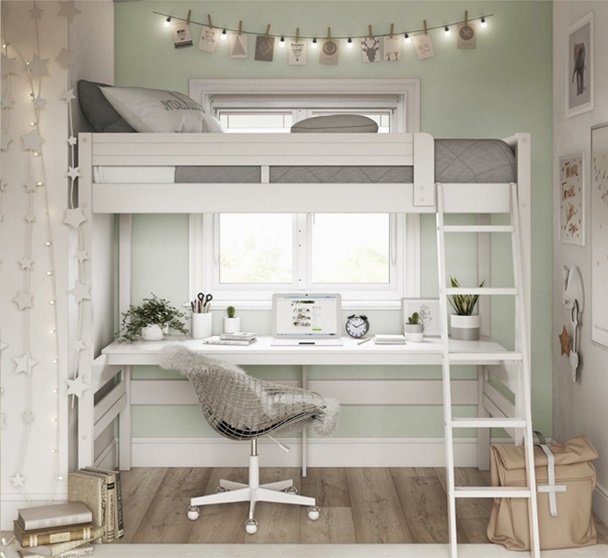 Children usually share bedrooms, and the space can be quite limited. Instead of studying in the kitchen, they can work on their homework in their bedrooms if they have a designated study area, courtesy of a loft bed with a desk. Additionally, you can fit other necessary furniture, including a tiny bookcase in Singapore.
But the question is, are loft beds safe for children? Here are the things you need to check:
1. GUARDRAILS
Children roll a lot when they sleep. Since loft beds are several feet off the ground, unlike a single bed on the floor in Singapore; therefore, falling off the bed can cause injury. Parents must choose loft beds with guard rails.
The guardrails are at the edge of the bed to prevent kids from rolling off the bed. The standard guardrail is five inches above the mattress and has a width opening of fifteen inches for getting in and out of the loft bed.
Meanwhile, some guardrails are not solid slabs or have holes or gaps in between. Ensure the gaps are not more than three inches; otherwise, it poses a strangulation risk, especially since children have thin arms.
2. PERPENDICULAR WALLS AND HIGH CEILINGS
Most loft beds only have one guardrail on one side while the other is bare. Place the bare side against a wall for support and to avoid falls.
Check the height of your ceiling, too! If you have a low ceiling, avoid placing the loft bed directly under the light or a ceiling fan. Kids can accidentally hit them with their heads, arms, and feet when the ceiling is too low; or the location makes them reachable.
Another thing is never the bed next to the window. Access to the window can result in injury and accidents.
3. AGE APPROPRIATENESS
Believe it or not, there are age restrictions for a loft bed with a desk. First and foremost, loft beds are not for kids six years old and under. They are prone to accidents and falls. Instead, you can buy a pull out bed frame for them then switch to a loft bed once they are older and can climb up and down safely.
Loft beds for adults have greater capacity than loft beds for children. Adult loft beds, especially custom-made ones, can accommodate two adults simultaneously, whilst children's loft beds have a capacity of one person only. Make sure to implement a one-person-in-bed rule on your child to prevent accidents.
4. STAIRS AND LADDER CUSHIONS
Some loft beds have stair cushions and ladder padding to enhance grip and soften the blow in case the child slips while climbing up and down.
Are you looking for a loft bed or bookshelf in Singapore? Find children-appropriate furniture at Kids Haven. Visit Kids Haven today.